Thirty four young women began competing in the national final of Miss Viet Nam 2006 at the VinPearl resort near Nha Trang on Wednesday.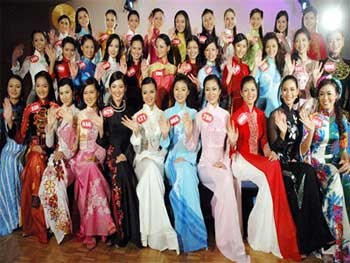 34  beauties of the national final of Miss Viet Nam 2006.(Photo: TNO)




Having triumphed over 3,000 entrants in the regional rounds, the young beauties will be spending 11 days in and around the resort on Tre Island in Khanh Hoa province.

Though every contestant is vying for the main title above all, there are also the Miss Photo, Miss Sea, Miss Sport and Miss Friendliness titles to be won. On Wednesday they began competing for Miss Photo.

As part of their social engagements, they will visit Cam Ranh Naval Base and chat with the sailors, and attend various charity functions.

The final of the Tien Phong newspaper-sponsored event will reach its climax on Sunday August 26.
For Miss Vietnam the prize is VND80 million and a trip to Japan, the runner-up gets VND60 million plus a trip abroad, and third place takes home VND40 million.
Related article:
Over 3,000 Beauties Join Miss Viet Nam 2006 Contest