Mai Phuong Thuy, the reigning Miss Viet Nam, traveled to Poland on Monday for the 56th Miss World contest in Warsaw. Before departing, Thuy said she was determined to exert herself and show the Vietnamese smile to the world.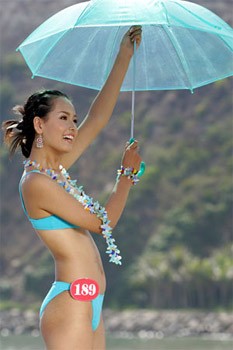 Miss Viet Nam 2006 Mai Phuong Thuy
Besides 50 outfits for the pageant, Thuy took along a painstakingly crafted sand painting weighing seven kilos for the charity auction and a pot of cactus, symbolizing the Vietnamese people's will and ability, for the day of planting at Garden World.
Thuy is confident of performing well in the Miss Talent quest, for which she will do a traditional dance of Viet Nam that she has practiced to perfection.
She's also happy with her English and feels she will be able to communicate what she means in the Q&A segment.
At the moment, the 100-plus young women hoping to be the 2006 Miss World are touring Poland and vying for the minor titles of Miss Beach Beauty, Talent, Sport, and Beauty with a Purpose in the lead-up to the final night on Saturday 30th September.
To vote for Mai Phuong Thuy, go to www.missworld.tv and enter her code: MW 117.

Related articles:
Mai Phuong Thuy Wins Miss Viet Nam 2006
Miss Viet Nam Adopts World's Best Practice
Miss Viet Nam Final Gets Underway At Island Resort
Over 3,000 Beauties Join Miss Viet Nam 2006 Contest