Organizers of the Miss Vietnam Global 2010 pageant announced the winner will receive a crown inlaid with gemstones worth VND1 billion (more than US$50,000) that she will be allowed to keep forever.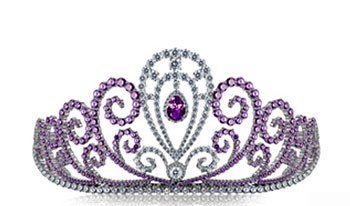 The crown is inlaid with more than 600 gemstones worth VND1 billion (over US$50,000)
The crown's design replicates the image of a blossoming lotus, with each petal shaped like a wave. It sends the message that the beauty queen will rise to a better life, show her talent and always promote Vietnamese traditional beauty and culture around the world.

The crown is inlaid with 606 diamonds and Amethyst of 2-12 carats. A 8x12 carat Amethyst is the crown's highlighted feature. Skillful jewelers took more than 1,000 hours to finfish the crown by hand.

The winner of Miss Vietnam Global 2010 will also receive a cash prize of VND500 million (US$25,000).

The final round of the Miss Vietnam Global 2010 pageant will be held at Vinpearl Land Resort and Spa in Nha Trang, from August 10 to 22.

Qualifying and semifinal rounds for contestants from Vietnam took place in Hanoi and Ho Chi Minh City in May. Beauties from the American region and Europe competed in the U.S and the UK respectively.

Meanwhile, Vietnamese contestants from former Soviet bloc countries gathered in Russia; the Republic of Korea was the venue for Vietnamese contestants in Asian region.

Related article:
World famous group IL Divo to perform in Miss Vietnam Global 2010