Semi-professional model Hiromi Pham was crowned the "Miss Vietnam in Japan" on January 28 in a beauty contest held for women of Vietnamese origin in the land of the rising sun.
The final round took place in Kanagawa Prefecture, south of Tokyo. Hiromi Pham beat the other nine contestants to wear the crown.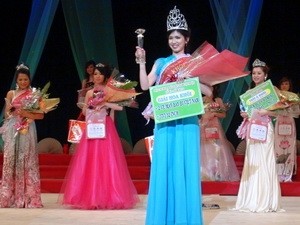 Hiromi Pham is crowned on January 28, 2012 in Kanagawa Prefecture, south of Tokyo. (Photo: Vietnam+)
The 22-year-old woman was born in Japan and currently works for a sports club in the country.
After being crowned, she said she was born and grew up in Japan therefore she had no Vietnamese friends. However, she would try to learn Vietnamese to be able to communicate with Vietnamese and return to visit the homeland.
Coming second after Hiromi Pham was Duong Thi Thuy, who was born in 1987 also in Japan and currently works for automaker Nissan.
The other titles included Miss Body, Miss Beautiful Face, and Miss Photogenic.
Yokohama-based trading company Motiti organized the contest, which attracted the participation of women of Vietnamese origin aged 16-26 currently studying and living in Japan.
Ms. Tong Thi Kim Giao, head of the organizing board, said that the event was a cultural event organized to strengthen solidarity within the Vietnamese community in Japan, as well as to help them remember their origin.