Miss Vietnam, Luu Thi Diem Huong outclassed all the other contestants en route being named the Best in Swimsuit in the ongoing Miss Earth 2010 on November 20.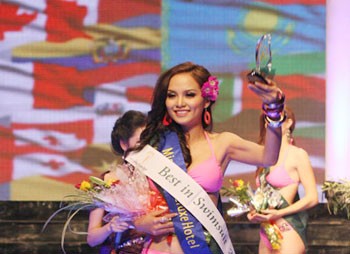 Luu Thi Diem Huong wins the Best in Swimsuit
Miss Vietnam Luu Thi Diem Huong (middle) wins the Best in Swimsuit during the annual Miss Earth 2010

The show was held in Phu Yen Province with participation of 80 contestants from 80 countries and territories.
Completing the top 5 were the contestants from Venezuela, Czech Republic, Norway and Ecuador.
At the show, Miss Earth's organizing board offered Phu Yen Province People's Committee VND500 million (US$25,000) to support flood victims.
Earlier, candidates of the beauty pageant conducted charitable activities in the central province of Phu Yen on November 19.
The beauties visited a provincial social protection centre and a school for disabled children and called at flood-hit people in Phu Hoa district.
At the centre, the beauties presented gifts to children who suffer from incurable diseases and elder people. They also presented VND15 million to Mrs. Dang Thi Hong Vuong in Hoa An commune, whose house collapsed during floods earlier this month.
After the show, all contestants will come back Nha Trang to continue the competition.