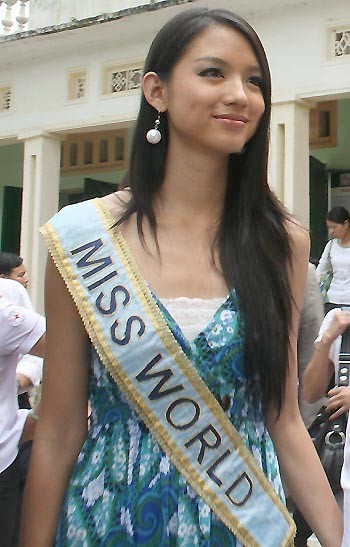 Truong Tu Lam visited HCMC in July, 2008
Miss World, Truong Tu Lam and the Chairman of the Miss World contest – Ms Julia Morley will return to HCMC on October 14 with the intention of taking part in the publicity ceremony of the 2010 Miss World contest.
During the events of the Miss Universe contest, the Chairman of Miss World and the General Director of RAAS had decided to select Viet Nam as the host country for the 2010 Miss World contest. Accordingly, a high-end tourist complex in Nha Trang will be set up for this important event.
As scheduled, Miss Truong Tu Lam, Ms Julia Morley, Mr Hoang Kieu – General Director of RAAS and the Khanh Hoa leaders will be present at the press meeting on October 15 and they will announce the detailed schedules for preparing the 2010 Miss World Contest in Nha Trang.
Mr Le Xuan Than, Deputy Chairman of the Khanh Hoa People's Committee said Khanh Hoa authorities had a meeting with Mr Hoang Kieu last week. Mr Hoang Kieu proposed to build a five–star Dam Bay Ecotourism Complex including a new stage which would be set up at the island in order to organize 2010 Miss World Contest. In addition, this five star complex will be equipped with many floating restaurants, over 10 beaches, an underwater hotel, and many entertainment areas.
The 2010 Miss World Contest will mark the 60th anniversary of this contest. The organization board expects to attract more than 130 contestants from across the world to meet together in Viet Nam. On July 9, Ms Julia Morley announced the label of the 2010 Miss World Contest will be "Beauty for a Charitable Purpose"