Models Vo Hoang Yen and Pham Xuan Thu won the Golden Supermodel title in the male and female competition for Vietnamese Super Model – Barley 2008.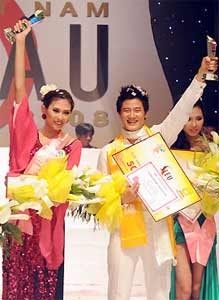 Models Vo Hoang Yen (L) and Pham Xuan Thu
The final portion of the contest was held at Lan Anh Music Venue in Ho Chi Minh City Sunday.
Silver Supermodel awards went to Vo Kim Cuong and Nguyen Ngoc Ngoan. The Bronze Supermodel was awarded to Pham Dinh Minh Trieu and Le Hai Nam.
Other titles including Photogenic Supermodel, Best Performing Style, Best Figure and Favorite Supermodel went respectively to the couples Khong Thi Lan Phuong - Nguyen Van Thinh, Phan Nhu Thao – Nguyen Quang Giap, Lam Thu Hang – Nguyen Dang Khoa and Vo Hoang Yen – Do Nguyen Hoang Long.
The contest for Vietnamese men and women between 18 and 25 kicked off in March. It is organized by Thoi Trang Tre (Youth Fashion) magazine and Cat Tien Sa Media and Television Company with the support of the Tan Hiep Phat Brewery Co.