This year's Hue Festival, titled "Cultural Heritage During Integration and Development," will see a host of new and innovative cultural performances in Hue City and districts in the central province of Thua Thien-Hue from June 5-13.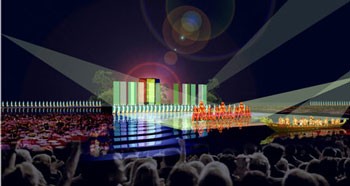 A floating stage will be set up on Tinh Tam Lake in Hue City for performances of traditional and court music during Hue Festival 2010.
The festival's organization board made the announcement at a press conference in Hanoi on January 21.
More than 40 art troupes from 31 countries including France, Argentina, the US, UK, Poland, Australia, India, Japan, Laos, Cambodia, Senegal and more will take part in the nation's largest cultural event.
Hue Festival 2010 will feature hundreds of tourism and cultural activities honoring Vietnamese and Hue ancient capital cultural values. The event will also bring together representatives of ancient capital cities and cities with world cultural heritage sites and traditions, said head of the festival's organization board and Vice Chairman of the Thua Thien-Hue provincial People's Committee Ngo Hoa.
The festival will offer diverse attractions including royal banquets in Dai noi (Hue Imperial Citadel), food fairs, court music performances, and time-honored royal folk games.
Activities such as the Nam Giao Offering Ritual, Royal Palace by Night, and Legend of the Huong River will also be revived with participation of many local artists and dancers.
To celebrate the 1,000th anniversary of Thang Long-Hanoi and Nguyen Phuc Lan Lord's selection of Kim Long (a village 10km from Hue City) to be the capital city of the Southern Kingdom, a performance of the "Land Reclamation Itinerary" and the "Navy Maneuver Under the Dynasty of Nguyen Phuc Lan Lord" will be re-enacted onstage.
Hue City has a current total of around 6,000 hotel rooms. Local authorities will strictly control room-rental rates during the festival, said Mr. Nguyen Quoc Thanh, deputy director of the Provincial Department of Culture, Sports and Tourism.
Hue Festival 2010 will kick off at Ngo Mon Square on June 5 and will wrap up at the Huong River on June 13.