Setting foot on the Ly Son Island off the coastal province of Quang Ngai visitors will see many places to worship, such as An Vinh Temple, Am Linh Tu Pagoda and Hoang Sa naval monument, which were built to honor and commemorate the Hoang Sa fleet.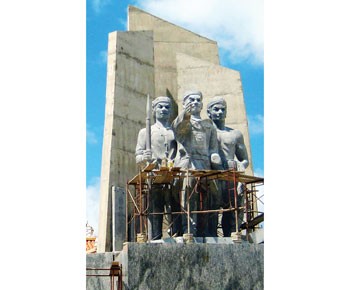 Hoang Sa naval monument is installed on Ly Son Island in Quang Ngai Province in July.
Among them, a 30-ton monument made of granite to honor and commemorate the Hoang Sa Bac Hai (North Sea) fleet, which patrols the Hoang Sa (Paracel) and Truong Sa (Spratly) archipelagoes, which was installed in July.
"I heard that the culture department discussed building a monument to the Hoang Sa fleet on Ly Son Island in a seminar in 2001. I think it is a sacred duty and will be a chance for us to thank soldiers who sacrificed their lives to protect the country.
"I made many trips to Ly Son from 2001 to 2008 for sketching. My draft was approved in September 2008 and then I joined hands with artisans in Ninh Van stone village in the northern province of Ninh Binh's to carve the monument," sculptor Ha Tri Dung remembered.
The monument consists of three men, including the head of a Hoang Sa militia in royal costume, a bare-chested man shouldering a fishing net and one dressed in an overcoat. They departed to reassert sovereignty over both the Paracel and Spratly islands.
An original royal edict from the Nguyen dynasty referring to the Hoang Sa archipelago was discovered in the records of the Dang family in An Hai commune, Ly Son island district, Quang Ngai Province, in March.
King Minh Mang promulgated the edict to send three boats and 24 seamen to defend Hoang Sa in 1835. A member of the Dang family was entrusted to guide the team.
The edict once again re-assert that Hoang Sa and Truong Sa, which were protected by Vietnamese ancestors hundreds of years before, belong to Vietnam.