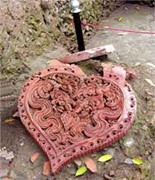 photo:SGGP
From January 24 to February 28, 2006, the Ha Noi ancient citadel will be opened for sightseeing.
Besides the existing relics, there will be more than 1,000 antique objects and pottery of various ages. Especially, 53 works of art by western painters will be displayed in "The restoration of ancient Thang Long capital" exhibition, which will be organized in the Nha Rong-Kinh Thien temple area in the ancient citadel. Most paintings miniaturize the architecture, activities, manners and customs of ancient Thang Long together with imperial main ceremonies such as the community of rite's attendance, the queen procession, or the clothing of the Nguyen Dynasty Kings..

Most works are copies of French scholars' pictures and photo collections, such as The History of the Northern Viet Nam by Alexandre Rhodes in 1546, Missionary Areas by Marini (Italia) or Travel in Northern Viet Nam by Jang Baptist Tavernier.
Admission will be free for all.