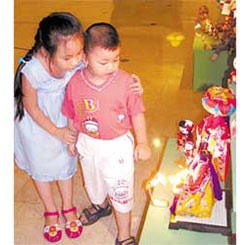 The children contemplated the doll exhibition in Equatorial Hotel
Doll exhibition, an activity within the "Doll's House" program which was organized by the Sai Gon Giai Phong Newspaper and Ho Chi Minh City (HCMC) Education and Training Department, ended in Equatorial Hotel on May 23, 2006. More than 1,000 visitors came to the exhibition in three days.
The majority of visitors were children. Equatorial Hotel had provided free venue for the press conference and doll exhibition (worth VND100 million). In light of the public's overwhelming interest, Mr. Justin Chew, director of Equatorial Hotel wished to host the auction sale of dolls also at the hotel.

After the press conference, many sponsors contacted the organizers to make good their promise to support the program.

Saigon Postel Corporation provided VND50 million. Saigon Transportation Mechanical Corporation (SAMCO) donated VND30 million including transport costs (worth VND10 million) to take children to HCMC Children' House on June 1.

Tan Minh Phong Co,.Ltd in My Yen Ward, Ben Luc District, Long An Province handed over 2,700 cosmetics gifts for children which cost VND29 million, consisting of shower cream and powder.

HCMC Businesswomen Association supported the program with VND10 million. The Shoe and Leather Association of HCMC chipped in VND5 million. Saigon International Obstetrical-Gynecological Hospital Joint Stock Company (Sihospital) donated VND2 million.

The organization board hopes to receive more assistance from enterprises, benefactors and readers.
Until May 23, the organization board still received dolls from schools in the city. Education and Training Offices of District 6, 10 and Tan Binh collected 4,300 dolls and sent to the organization board. 

In the meantime, 3,900 dolls were sent to the "Doll's House" program in Dong Nai, and 1,000 dolls to Can Tho.

Related articles:
- Doll Exhibition Opens in Equatorial Hotel
Go Vap District Collected a Record Number of Over 8,000 Dolls
Set New National Record in Doll Collection 
"Doll's House", A Humane Program
Dong Nai Province Goes In Company with "Doll's House" Program
Education and Training Office of District 1 Collects Over 6,500 Dolls
Ho Chi Minh City Enterprises Donate VND225 Million
More Than 30,000 Dolls and Cuddly Toys Handed Over
Thousands of Dolls to be collected
"Doll's House" Program Receives Warm Responses
Hundreds More of Puppets Donated
"Doll's House", The Joy of Poor Children