More than 200 local and international artists will participate in the 11th event, such as country's leading violinists, Bui Cong Duy and Vu Viet Chuong; guitarist Nguyen Thanh Huy; flutists Anton Isselhadt of Germany and Pongpat Pongpradit of Thailand; cellist Ulrich Horn of Germany; choreographers Nguyen Phuc Hung and Nguyen Phuc Hai; dancers Tran Hoang Yen, Nguyen Thu Trang, Phan Thai Binh, Sung A Lung.

The event includes an opera composed by Johann Strauss II, "The Bat" (Die Fledermaus), that is a cooperation between the HCMC Ballet Symphony Orchestra and Opera (HBSO) and Goethe Institute. The play directed by David Hermann of Germany and conducted by Askan Siegfried Geisler and Tran Nhat Minh will be presented to music lovers on August 19-20 with the participation of 130 artists.
The HCM City Conservatory of Music will present brass instrument performances in front of the municipal Opera House in the morning August 19 and 27.
Meanwhile classical chamber music works of Gabriel Fauré, Claude Debussy , Ernest Chausson will be performed by the International Chamber Players, consisting of artists of Vietnam National Academy of Music and international music academies on August 23.
One of the highlights is a gala concert on August 25 featuring compositions by famed composers and contemporary authors, namely Wagner, M. Bruch, Antonín Dvořák, F. Liszt, S. Rachmaninoff, M. Glinka, J. Hummel, S. Nichifor, Peter Warlock, Christoph Rolfes.
German cellist Ulrich Horn and Vietnamese conductor Le Phi Phi will participate in the last performance of the event on August 27.
There will be a concert featuring young talents from Russia and the Republic of Armenia on August 22; a performance of Vietnamese young artists on August 24; a chamber music on August 24; a classical guitar show on August 25; a concert and contemporary on August 26.
Since it began in 2005, the annual 'Autumn Melody' concert has received a lot of support and contributions from hundreds of local and foreign artists, and regarded as a place for Vietnamese and foreign musicians to meet and exchange the latest in music news, and where music lovers can have a great experience.
The music show is organized every two years starting 2013.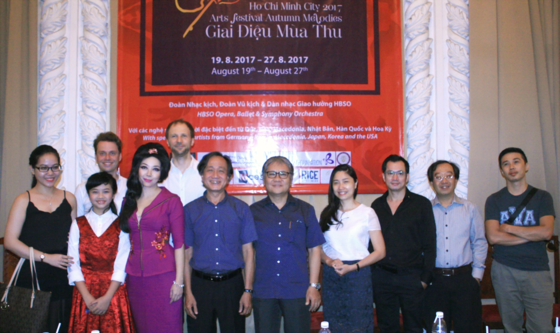 Artists will join the "Autumn Melody" concert.