In the framework of the 18th Vietnam Film Festival, for the very first time a seminar was held to emphasize the strong connection between movies and tourism.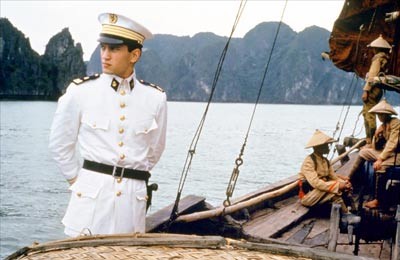 A scene in the film Indochine with the background of Ha Long Bay. After watching the film, a wave of French people flock to Vietnam (Photo: SGGP)
Film director Ngo Quang Hai 'Chuyen cua Pao' (Pao's story), a well-known movie, said after the film was premiered in Ho Chi Minh City, many people asked him about the background of the film as they wanted to go there for a sightseeing tour. In 2003, the film was shot in the Dong Van Plateau, a beautiful plateau and one of the 77 geological parks of the world.

Hai returned to the plateau in 2010. Surprisingly, he found the plateau had become a tourism spot with a sign saying 'Cultural Tourism Village' in front of the path to the village house used in his film.

When the film 'Indochine' was screened in France, a wave of French people flocked to Vietnam to visit Ha Long Bay that was used as a stage in the famous film.
Someone even insisted on booking a room where actress Catherine Deneuve had stayed to increase the romantic level of their holiday in the Southeast Asian nation.

Trinh Dang Thanh, Deputy Head of the Department of Culture, Sports and Tourism in the northern province of Quang Ninh, home of the UNESCO-recognized natural heritage site of Ha Long Bay, said that the Indochine film and the film 'Vertical Rays of Summer' (Chieu Mua He Thang Dung) showed Ha Long Bay which attracted many Japanese holidaymakers to the famous bay.

Quang Ninh Province boasts of 22 races, with more than 600 historic sites and natural landscapes, namely, Ha Long Bay, Bai Tu Long Bay, Yen Tu Mountain, Co To Island which are preferred by film makers.
Ngo Phuong Lan, Head of the Department of Cinematography, said to date more than 70 films including feature films, television films and documentary films have been staged in Quang Ninh adding that very few provinces can attract film makers like Quang Ninh does.

However, life styles, traditions, customs and cuisine of locals in Quang Ninh Province have not been exploited in the films. Everyone who arrived in Quang Ninh wish to buy grilled cuttle-fish to present to relatives; yet, the famous food has not been included in any films so far.

French journalist Federic Ferrer said Quang Ninh Province in particular and Vietnam in general have advantages in attracting travelers from across the world as the country has diverse and unique culture, a variety of beautiful landscapes and excellent cuisine. Film makers should produce good films with such beautiful scenes to display to the world and draw more tourists to Vietnam.