A special cultural festival to celebrate the 250th birthday of Austrian great composer Wolfgang Amadeus Mozart will take place in Ha Noi during September.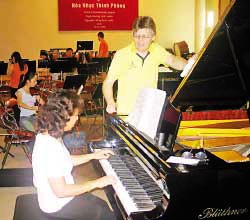 Pianist Ton Nu Nguyet Minh and conductor Gudni A. Emilsson are practising
Vietnamese pianist Ton Nu Nguyet Minh, who is now a professor at the Music Academy Hanns Eisler in Berlin, German violinist Julia Galic and musicians of the Tubingen chamber orchestra of Germany and the Vietnam National Symphony Orchestra under the baton of conductor Gudni A. Emilsson will feature a selection of some of Mozart's most famous works and melodies such as Don Giovanni at the Ha Noi Opera House on September 8-9.
The festival will proceed on September 16-20 with the premiere of the opera "The Magic Flute", one of Mozart's most famous masterpieces, which was written shortly before his death in 1791. The opera has the attendance of 120 best opera singers of the Ha Noi Conservatory of Music and the Vietnam Opera and Ballet Theater, together with the Ha Noi symphony orchestra, Austrian conductor Wolfgang Groehs, director Manfred Waba, and Vietnamese artistic director Nguyen Trung Kien.

Cosi Fan Tutte (They're All Like That, or The School for Lovers), a Mozart's final comic opera composed a year before his death, gives a laughing look at the twists and turns of romantic love, was originally attacked for portraying faithless women. It is a story which is humorous as well as significant.


Produced just one year before Mozart's death, Cosi Fan Tutte or "the School For Lovers" contains some of his most beautiful and moving music. Filled with sparkling arias, witty ensembles, laughter, temptation and love, Cosi Fan Tutte is an extraordinary opera, both funny and insightful.
Cosi Fan Tutte will be performed by Vietnamese and Swedish artist, blending with the orchestra of the Vietnam National Opera and Ballet under the directorship of Jonas Dominique. The premiere will be on Thursday 28 September 2006 and a repeat performance on the following daysymphony orchestra of the Vietnam Opera and Ballet Theater and conductor Jonas Dominique on September 28-29 .