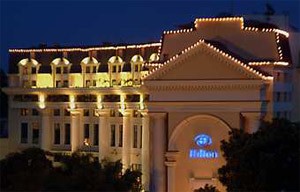 Ha Noi Hilton Hotel
September is Mozart Month in Ha Noi to celebrate 250 years since the greatest composer of them all was born. As its contribution, the Hilton Hotel in the capital will be hosting a display of pictures from September 14-28 showing the daily life of Wolfgang Amadeus Mozart in and outside Vienna.
The exhibits include specially enlarged photographic reproductions of paintings of Mozart with his family, in Riesenberg, sitting at the piano and such to give the viewer a life-sized experience.
Austrian photographer Christian Vranek initiated the idea of the show and got help from some colleagues and the Austrian embassy to organize it.