Hollywood's hottest couple, Brad Pitt and Angelina Jolie, made a surprise visit to Ho Chi Minh City on Wednesday evening, staying downtown at the Park Hyatt Hotel. They left Viet Nam to return to Cambodia on Friday morning.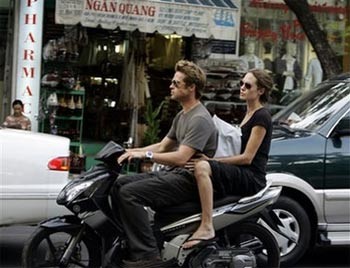 Brad and Angelina on Ho Chi Minh City's streets.
While Brad and Angelina had business to attend to in Cambodia, but spent time in HCMC as any average tourists to the region would.

The Vietnamese entertainment press was apparently caught off guard by their "normal" dress and tourist activities.

Brad and Angelina spent time walking around Ho Chi Minh City and rode a motorbike to Ben Thanh Market to do a little shopping.

Most of their time here was spent unrecognized. When press eventually caught up to them to snap a few photos of the power couple, Brad was quoted as saying they had a "wonderful day in Viet Nam."
Before their arrival, Brad and Angelina had been in India filming A Mighty Heart.  They then made a brief visit to the Pailin area of northwestern Cambodia where Angelina met with officials to discuss a forest conservation project for which she has pledged US $1.3 million.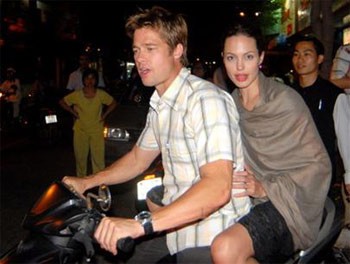 The couple has just left the Temple club for hotel after having dinner.
Angelina Jolie, who is also a Goodwill Ambassador for the United Nations High Commission for Refugees, is the adopted mother of a Cambodian child, Maddox, who is now 5. She adopted him in 2002 while filming the sequel to "Lara Croft" in the country.
After adopting an Ethiopian daughter, Zahara, in 2005, the couple had a biological daughter named Shiloh Nouvel Jolie-Pitt when Angelina gave birth in May of this year.
Angelina Jolie was described as the world's most beautiful woman in this year's "100 Most Beautiful" issue of People.

Brad Pitt was chosen by Empire magazine as one of the 25 sexiest stars in film history. In addition, Pitt has twice been named the Sexiest Man Alive by People magazine.