Hollywood's hottest couple, Brad Pitt and Angelina Jolie, has filed paperwork to adopt a boy from Vietnam, according to the US Weekly.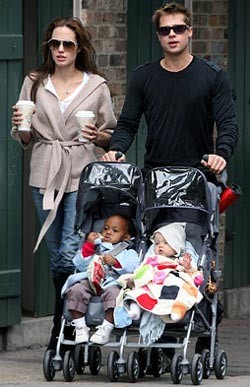 Brad Pitt and Angelina Jolie with their adopted children (Photo: Celebritybabies)

The two film stars have filed papers with the U.S. Citizenship and Immigration services to adopt a boy from the Tam Binh orphanage in Ho Chi Minh City, to which they made a surprise visit last November.

However, Head of the International Adoption Bureau under the Vietnamese Justice Ministry, Mr. Vu Duc Long said the couple has yet to mention the matter with the Vietnamese authorities.

Meanwhile, Director of Tam Binh Orphanage, Nguyen Van Trung said he will follow any instructions from the HCMC Department of Justice in the event of the couple wanting to adopt a child.

The pair already have three children - Maddox, 5, Zahara, 2, and Shiloh, 9 months and have been very vocal about their desire to raise more international children.

Their son Maddox was born in Cambodia, daughter Zahara was born in Ethiopia while Shiloh has dual citizenships from the US and Namibia.