Hollywood star Angelina Jolie made a surprise return to Ho Chi Minh City on Wednesday evening alone, staying downtown at the Park Hyatt Hotel. She left Viet Nam on Friday morning. She was guessed to stop by the city for adopting a Vietnamese child from the orphanage.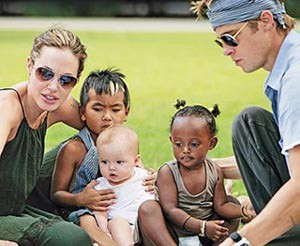 Angelina Jolie and Brad Pitt together with their children. (Photo:People)
Hollywood's hottest couple, Brad Pitt and Angelina Jolie, previously arrived in Ho Chi Minh City on November 22 and visited orphans at the Tam Binh Orphanage in HCM City on November 24.
The couple expressed their deep sympathy for the children. They regretted for not having brought more gifts as the visit to the orphanage had not been planned and promised to return with more for the children.
The Tam Binh orphanage director, Nguyen Van Trung, said that he had not heard from the Hollywood couple or their representative about adopting a child from the orphanage.
Anyhow, he has just received an official document of allowing reporters of The Times and another UK's News Agency to shoot documentary film about adopting a Vietnamese child by the Hollywood couple from the Ho Chi Minh City External Relations Office.
According to the International Adoption Department under the Justice Ministry, the department had not received an application for adopting from Brangelina.
Information of the film star's return was kept top secret. None of the more than 20 local and foreign reporters, who waited for the film star at the Tam Binh Orphanage and the hotel during two days, could approach to take any photos.