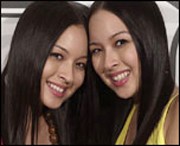 MTV Asia DJs May And Choy
MTV Asia breaks onto the Vietnamese music scene November 4th with its first local concert, "The Wings of Hope," featuring Vietnamese and South Korean singing sensations at the Phan Dinh Phung sports center in Ho Chi Minh City.
Aside from the notable names of Vietnamese pop stars, Phuong Thanh, Dam Vinh Hung, Ho Ngoc Ha, Thu Minh, Minh Quan, and MTV band, a Korean band called the V4Men and singer/actress Seo Ji Young will join the show. The performance will also see the attendance of the famous MTV Asia twins from Singapore, May and Choy.
The performers will sing Korean songs translated into Vietnamese together such as "Tears," "Although Ten Years Have Passed," and "Impossible Together". A portion of the proceeds from the concert will be given in relief to the Vietnamese victims of typhoon Xangsane.
MTV Asia has been presented in Viet Nam for ten years, but while the MTV Network and services are being expanded around the globe, most programs are simply rebroadcast through one TV channel and two radio stations in Viet Nam.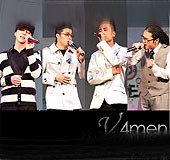 V4Men
"The Wings of Hope" begins MTV's strategy to enlarge and develop the music market in Viet Nam. In the scope of its broadcasting plans, MTV Asia and BHD, a local entertainment company, plan to organize events in promoting MTV Asia to bring Vietnamese music lovers closer to MTV.
The V4 Men have a few intentions playing the show: they hope to surge onto the music scene, win the hearts of the Vietnamese audience, and prepare the public for their release of "Andanct" (Slowly) in Vietnamese, this coming November.
The album includes 8 Korean love ballads translated into Vietnamese by the Vietnamese musicians Vo Thien Thanh, Ha Quang Minh and Chu Minh Ky. Comprising the V4 Men are Ji/One (Song Jae Won), Lee Jung Ho (Lee), Jung Sae Young (Jung) and Han Hyoun Hee (Han).