'Mui Co Chay' (smell of burning grass) received the best film prize at the annual awards ceremony for Kite Awards 2011 in Hanoi on Saturday night, organised by the Vietnam Cinematography Association.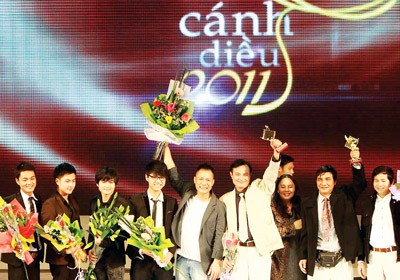 'Mui Co Chay' wins best film prize at Kite Awards 2011 in Hanoi on March 17 (Photo: SGGP)
'Mui Co Chay' is a movie about war by film director Huu Muoi. Besides best film prize it also received other prizes like best musician prize for Do Hong Quan, best cameraman prize for Pham Thanh Ha and best writer prize for poet Hoang Nhuan Cam.
The 90 minute film, made at a cost of VND5.2 billion (US$247,000), talks about young students who voluntarily dropped out of school to join the war against the US forces and the violence that erupted in Quang Tri ancient citadel in 1972.
The film highlights the sacrifices that the youth had made for the country's liberation.
The Kite Awards 2011 committee received 137 films in different categories. Of these, about a dozen movies were made by private producers.
At the awards ceremony, two film directors, People's Artists Bui Dinh Hac and Dang Nhat Minh, were honoured for their immense contribution to the country's movie industry.