The Viet Nam Museum of Ethnology has added a Dong Son bronze drum to its collection thanks to a generous donation by a private collector.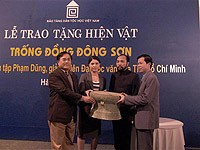 The Viet Nam Museum of Ethnology receives the Dong Son bronze drum
Pham Dung, who teaches at the Ho Chi Minh City University of Culture, presented the more-than-2,000-year-old drum to the museum yesterday, nine years after he picked it up in Ninh Binh province.

On the drum, which was used in harvest prayer rituals, are etched four toads with their heads directed clockwise, and concentric circles around a sun in the center from where a dozen intricate and exact rays spread out towards the edge.

The drum is not Mr. Dung's first donation to the museum. Four years ago he gave away 145 pieces of household pottery from the Tran, Le and Ly dynasties along with some antique Chinese pottery for the museum to exhibit.
The museum's director, Dr. Nguyen Duy Thieu, is understandably ecstatic about this latest acquisition. "It's our first Dong Son bronze drum and we'll be sure to keep it in tip-top condition for the public to enjoy," he said.