The Việt Nam Museum of Ethnology in Hà Nội will present various games originating in Southeast Asian countries to children this weekend.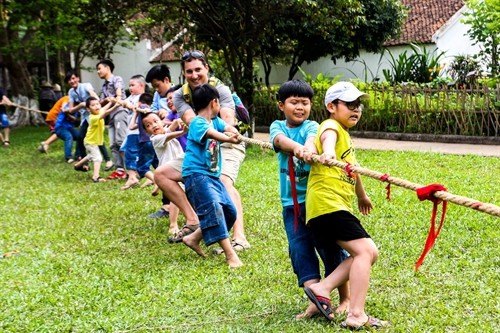 Fun and games: Children play tug-of-war at the Museum of Ethnology. Various games originating from Southeast Asian countries will be on show this weekend. — Photo courtesy of the Museum of Ethnology
The event is aimed at creating a playground for Vietnamese children to celebrate International Children's Day and is a chance to help them understand other countries' cultures through games.

Several games will be played at the event, such as tug-of-war in Vietnamese and Thai styles, tig from Cambodia and ô ăn quan (a mindgame between two players that involves tactical thinking) in Vietnamese, Malaysian and Indonesian styles.

The games played in these countries have similarities, only differing in the materials used. For example, Vietnamese children play ô ăn quan with gravel, while children in other countries play the game with leaves and marbles.

Additionally, the children will have a chance to enjoy puppetry performed by the Minh Tân troupe from Hải Phòng City.

Students from some Southeast Asian countries will also perform in traditional costumes and display art pieces. There will be volunteers to instruct visitors on the rules of the games.