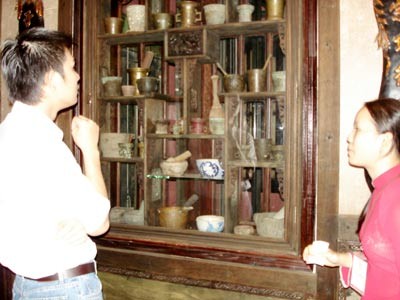 A guide (R) shows a visitor items used to grind herbs in HCMC's Museum of Vietnamese Traditional Medicine (Photo: U. Phuong)
A trip to Vietnam's first traditional medicine museum, located in Ho Chi Minh City, reveals a plethora of unique items and rich cultural heritage.
In front of the 600-square-meter Museum of Vietnamese Traditional Medicine (FITO), located at 41 Hoang Du Khuong Street, District 10, two bamboo groves add a sense of tranquility and stillness to the premises.
Entering the museum, visitors step lightly in order not to disturb the peace and quiet.
The museum is home to approximately 3,000 items typically found in a historic Vietnamese pharmacy for the preparation of traditional medicines.
The articles used to make medicines include knives, pestles and mortars, pots, medicine jars, scales, cabinets, printing molds, spirit gourds, and tea pots, just to name a few.
The most solemn place in the museum is an altar created to honor two of the most famous Vietnamese medical progenitors, Tue Tinh and Hai Thuong Lan Ong. The ornate alter includes a horizontal lacquer wooden board engraved with intricate Chinese characters and scrolls.
The design and construction of the museum was crafted in the style of traditional Vietnamese architecture and has 18 exhibition rooms spread over six floors with plants, trees and herbs growing in every corner.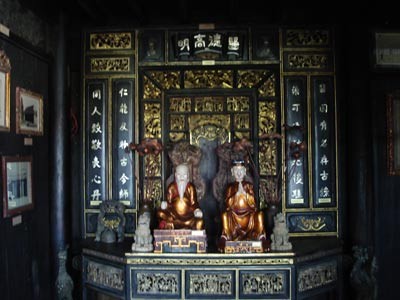 The altar created to honor two of Vietnam's most famous medical progenitors, Tue Tinh and Hai Thuong Lan Ong ( Photo: U. Phuong)
A wooden artwork depicting a large tree also adorns the museum, on which the names of 100 well-known doctors from the XII to XX centuries are written. These physicians are credited with significantly contributing to the country's development of medicine.
Le Khac Tam, one of the founders of the museum, said that it took 10 years of searching to collect all the items for the museum, which itself took more than three years to build.
He said he strives to preserve the precious traditional artifacts and hopes it will give others an insight into the country's medical history. In 2009, the site attracted over 3,500 visitors, a large number of whom were foreign.
The Museum of Vietnamese Traditional Medicine is open daily from 8:30am to 5:30pm.