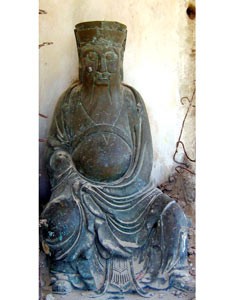 Nguyen U Di statue (Photo: SGGP)
The Museum of Quang Tri Province has proposed the Heritage Division of the Ministry of Culture and Information recognize 10 valuable and rare objects of the central province as national treasures.
The 10 objects include a bronze statue of Nguyen U Di, a general living a few centuries ago, two bronze drums, two statues of worshiped bulls, precious jars and relief works of art.
These important cultural and historical objects need to be protected and preserved strictly, according to the Museum of Quang Tri Province.