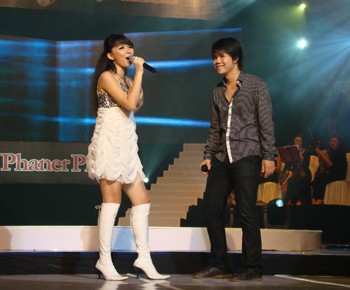 Singer Toc Tien and Dinh Manh Ninh in a performance. (Photo: Cat Tien Sa Co.)
Bai hat Viet (Vietnamese songs) 2008, an annual television contest for Vietnamese composers in which professional singers sing their compositions over several months, has reached its climax, with prizes to be awarded in Hanoi next weekend.
Twelve prizes will be given away to both composers and singers.
They include 'Song of the year', 'Best Pop Song', 'Best Rock Song', 'Best Concert Song', 'Best Instrumental Composition', 'Best Composer', 'People's Choice Song', 'People's Choice Singer', 'Young Promising Composer', and 'Creative Composer'.
They were chosen out of 56 songs in various genres like rock, jazz, pop, R&B, world music, and modern folk.
Many popular singers will reportedly attend the award nights, including Ngoc Khue, Hoang Hai, Hai Yen, Y Garia, Toc Tien, Dinh Manh Ninh, Nguyen Duc Cuong, Thuy Chi, Nguyen Ngoc Anh, and Le Cat Trong Ly.
Bai Hat Viet is held by Cat Tien Sa Company and Vietnam Television.