The two day Festival of Historical Songs 2009 opened with its first night performance on April 24 at Ben Thanh Theatre in District 1, HCMC.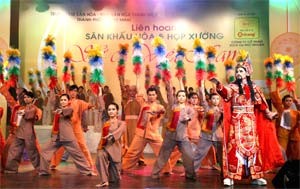 A show in the program (Photo: Thuy Binh)
Twenty groups from the district culture centers, universities and high schools will perform 80 songs from the song book 'Vietnamese historical songs.'
The April 24 concert was heated up by "Tay Son Hao Kiet" (Brave Tay Son soldiers) by District 5's culture center, and "Thang Long sac tham mai - dao" (Thang Long in the beauty of the cherry blossom and yellow apricot flowers) by district 3's culture center.
Today, the festival continues with another performance at Ben Thanh theatre before the awarding ceremony in the evening. The organizers will award gold, silver and bronze medals to the top three groups of the festival.
This is the closing show of cultural program, "Learn history from music," by HCMC Culture Center, HCMC Youth Culture House and Maseco-Arirang Co.