A massive music event with participation from more than 100 artists will be held in Ha Noi on Sunday, kicking off a series of cultural activities held by the city's Department of Culture, Sports and Tourism.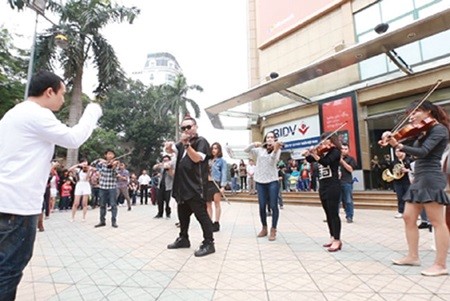 Rhapsody Philharmonic will perform classical music at Vincom Towers on Sunday from 4pm to 6pm. Vincom Towers is one of 10 locations in Ha Noi to host Autumn Music Festival.
The Fall Music Festival will take place at 10 different locations, featuring music across all genres.
Pop stars such as Uyen Linh, Khanh Linh and Hoang Bach – and up-and-coming performers Bao Tram, Duong Hoang Yen and Dinh Manh Ninh – will take the stage. They will be accompanied by jazz bands, flamenco bands and others.
Cheo (traditional opera) artists Thanh Hoai, Xuan Dieu and Thu Hang will join in the festival with performances at the Ly Thai To Statue on Dinh Tien Hoang Street.
Dance troupes will perform pop, rock and electronic dance music at Dong Da Hill on Tay Son Street, Thong Nhat Park on Tran Nhan Tong Street and at Dong Xuan Market.
A round stage will be placed at the crossroads of Ta Hien and Luong Ngoc Quyen streets in the Old Quarter for jazz performances.
The Ha Noi Station will host performances by acoustic bands, while Rhapsody Philharmonic will play at Vincom Towers on Ba Trieu Street.
About 20 established artists will join up for a big concert at the August Revolution Square in front of Ha Noi Opera House, 1 Trang Tien Street.
Indochina Plaza at 241 Xuan Thuy Street and Cau Giay Park on Dich Vong Street will also host musicians.
"Such music festivals have been held in many other countries, attracting locals and tourists as well," said Quoc Trung, the festival's music director.
The Fall Music Festival will be held as one of various cultural activities to celebrate the 70th anniversary of the August Revolution (August 19) and National Day (September 2).
An exhibition opened at 48 Hang Ngang Street, where President Ho Chi Minh wrote the Declaration of Independence. It will run until the end of October.
"Cultural activities this year will be more attractive than in previous years," said To Van Dong, director of the culture department.