"Music Interchange" - a collaborative project between the Australian National University and the Ho Chi Minh City Conservatory of Music will kick off on January 12 at the HCMC Conservatory's Concert Hall, the Australian Consulate-General in Ho Chi Minh announced on Tuesday.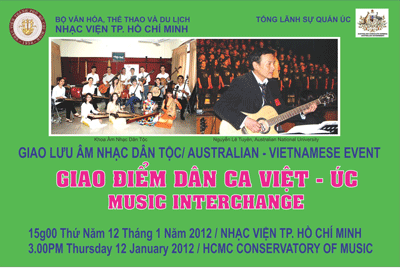 The poster of the musical program
The concert features Le-Tuyen Nguyen from the Australian National University, Huynh Khai and the Department of Traditional Music from the Ho Chi Minh City Conservatory of Music.

The program includes traditional music from Vietnam and Le-Tuyen Nguyen's contemporary compositions inspired by Vietnamese culture.
The highlight of the program will be the inaugural performance of the Australian folksong 'Waltzing Matilda' on Vietnamese traditional musical instruments by lecturers and students of the Conservatory.

Australian Consul General, John McAnulty said "This concert is an opportunity for Australia to join with Vietnam to celebrate the value of Vietnamese traditional music and its ability to inspire the world's contemporary music."

The Australian Consulate-General in Ho Chi Minh provides support the event.


Le - Tuyen Nguyen is an Australian composer, guitarist and music educator. He has performed and lectured in Australia, Singapore, Vietnam, Korea, France and the United States. Le-Tuyen is the co-founder of the GuiHANGtar in collaboration with Professor Salil Sachdev of Bridgewater State University.
Featuring Le-Tuyen's compositions inspired from Vietnamese traditional music, this duo ensemble has performed in Ho Chi Minh City in January 2011 to showcase "Australian-American Collaboration, contemporary music with Vietnamese influence".

Le-Tuyen is the inventor of the new guitar technique staccato-harmonic duotone. In 2007, he presented this innovation at the Darwin International Guitar Festival. During 2010, in a collaborative research with Dr Tran Quang Hai of International Council for Traditional Music, Le-Tuyen gave the world-first comparative study between the staccato-harmonic duotone and the overtone singing techniques.

Le-Tuyen has worked in leadership roles within New South Wales Department of Education and Training: a member of Chester Hill High School Executive team; the music specialist member of the Creative Arts Council, Southwestern Region; and the Assistant Musical Director of the Gillawarna Festival of Performing Arts.