When Kim Sinh was still a small child, a serious medical error resulted in loss of sight in both his eyes, but his impaired blindness did not diminish his intense passion for musical instruments, in particular the melodies of 'Cai Luong', of which he is today a recognized master in North Vietnam.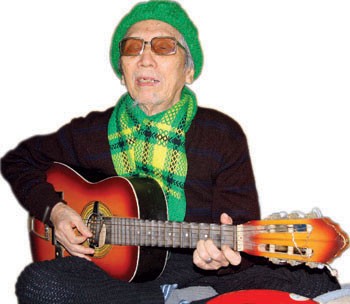 Blind singer and musician Kim Sinh playing traditional tunes on a guitar
Sinh narrates how his father soon gave up on his condition, how he took to drinking heavily and finally deserted the family. His mother in desperation then moved with Sinh to his grandmother's house that was by chance located opposite the Dong Ha Communal House in Hanoi.
Sinh discovered at a very early age that he was endowed with an ear for music and tones, was nibble with his fingers and had an exceptional memory.

The sound of trumpets that he heard daily in the mornings along with the lyrics and melodies of Cheo and Ly folk songs entrenched in his heart and mind and seeded in him the first desires of his future vocation.
Tirelessly, young Sinh set out to pursue and explore music. Fortunately for him, he found an excellent set of teachers in artists like Ngoc Bich, Trum Thinh, Dao Minh Ly, Quach Thi Ho and Nguyen Dinh Phuc.
Kim Sinh was an ardent learner and quickly picked up the strings and sounds of the skill and could soon play many kinds of musical instruments, besides also learning by heart the musical tones of traditional folk arts like Cheo, Cai Luong, Ca Tru and Hat Van.
Now, after 70 years of pursuing his passion, Kim Sinh can skillfully play dozens of different kinds of musical instruments.
Holding a Hawaiian guitar which he bought 60 years ago, Sinh recalls how he had to save every penny to buy it, even though he was offered an extremely low price for it at that time.
After buying it, he made some alterations to it so that he could use it as a Dan Nguyet or a two string Vietnamese moon lute and a Dan Tu or a bass guitar, whenever he wanted. This guitar then became his constant companion on most of his travel performances.
When people ask Sinh how many musical instruments he can play, his reply is that if any artist can play a Dan Day , which is a Vietnamese plucked lute with three strings, he can play either a guitar, a piano, a violin or even drums.
Though this may seem effortless for Sinh his friends and students know for a fact that it took long hours of practice and dedication for him to learn his present skills. The blind artist of Chuong Vang (Golden Bell) Cai Luong Theatre has dedicated a lifetime to overcome the mundane to master his predestined avocation.
For a long time, he spent his morning hours teaching Cai Luong melodies to young artists and in the evenings he would play musical instruments behind the screen for his students to perform on stage.
Kim Sinh is not only a master of musical instruments but also an excellent singer of Cai Luong of North Vietnam. Even though he has retired, many students continue to seek his advice. Among his more famous students are Phuong Khanh, Nhu Quynh, Quynh Nhu and Thanh Thanh Hien.
Kim Sinh's small house near the Red River embankment resounds often with melodies of traditional music, filling the air with sounds of an era long gone by of a peaceful and harmonious world in sharp contrast to today's world of harsh, loud and crass sounds of the outside existence.