The French electro-rock music band 'Success', will perform for music lovers at the Institute of Cultural Exchange of France (Idecaf) in Ho Chi Minh City on May 29.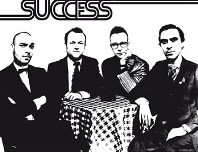 The French electro-rock music band Success.
The band, consisting of four members, vocalist Yann Chéhu; guitarist Julien Richer; Electronic keyboard player Dan Voisin; and drummer Joel Daventry, was discovered in Transmusicales de Rennes Festival in 2008.
They bring to audiences an electrifying performance of inventive, jubilant hybrid rock.
Their first album "Hard to Come Back" was the soundtrack for the film "Zombieland" in 2009.
The show will take place at the French cultural center L'Escape in Hanoi on May 31.
Tickets, priced from VND60,000 to 120,000, are available at Idecaf, 31 Thai Van Lung in District 1 in HCMC and L'Espace, 24 Trang Thi Street, Hanoi.