A clutch of celebratory activities, including fireworks displays and music shows, took place in Ho Chi Minh City yesterday and more today.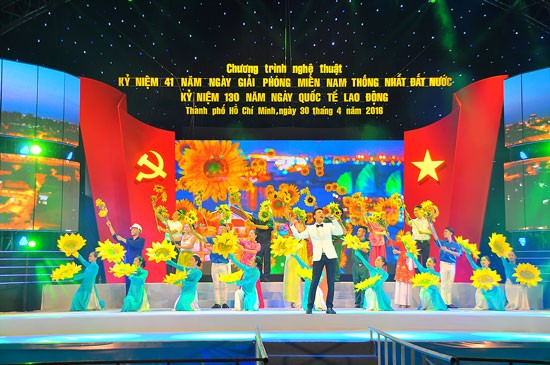 The musical performance at 23 September Park (Photo :SGGP)
A musical performance yesterday was held in Sen Hong State in September 23 Park in Ho Chi Minh City's district 1 to celebrate the 41st anniversary of Reunification Day ( April 30, 1975-April 30, 20016).

The musical program commemorated the past years with revolutionary songs and songs featuring the image of the city during 41 years after the April 30, 1975 with participation of well-known singers.

On the same day, other musical, sport and martial art program took place in four stages in Nguyen Hue walking street including southern amateur music, acrobat, puppet shows, and lion dance.

Fireworks shows were held in four places including high level fireworks display in the top of Thu Thiem tunnel in district 2 and low level fireworks displays in Dam Sen Park in district 11, Cu Chi district and Can Gio district, attracting participation of thousands residents in the city.

Ao Dai festival, a part of the annual Hue festival, always draws attention of visitors. The Ao Dai festival named "Noi huyen thoai bat dau" ( Where the fantasy starts), the festival began at 8 PM yesterday in the section Quoc Hoc besides dreamlike Huong River.

Nine fashion designers partook in the festival. With their own creativeness and style, they have presented beautiful Ao Dai for the festival.