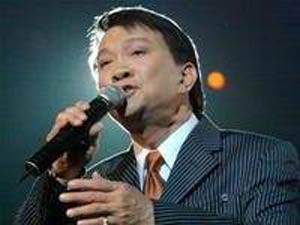 Singer Duy Quang will perform at the "De Gio Cuon Di" show.
A special musical performance, namely "De Gio Cuon Di" (Blown by the Wind), will take place at the Lan Anh Music Centre in Ho Chi Minh city next Wednesday to call for attention from the community on non-discrimination against people living with HIV/AIDS.
Jointly organized by the IRIS Advertising Company and the District 1 Children's House, the show will feature star singers My Linh, Dan Truong, Ho Quynh Huong, Duy Quang, Nguyen Phi Hung, Phuong Uyen, the Bells and more. The program will be broadcast live on HTV9.
With the message of "non-discrimination against people with HIV/AIDS", the show will request the audience to sign their names in the HIV/AIDS non-discrimination list. This action is expected to raise the hopes of and to ease the pain of unlucky people to respond to World AIDS Day (December 1).
The organizing committee planned to hand VND100 million to the Tam Binh child care center, Nhan Ai hospital and two other AIDS campaigns and HIV/AIDS infected people supporting groups.
Tickets can be found at:
Lan Anh Music Centre – 291 Cach Mang Thang Tam St., Dist.10. Tel: +84-8-8620620 (ask for ticket counter);
Sai Gon Superbowl - A43 Truong Son St., Tân Bình Dist. Tel: +84-8-8488888; 89 Dien Bien Phu St., Dist 1. Tel: +84-8-2910856; or at the websites: www.thegioive.com – www.golwow.com.