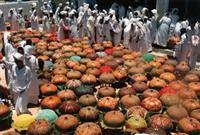 Photo: VNA

The Muslim Cham ethnic people in southern coastal Ninh Thuan province have been celebrating their traditional Ramuvan Festival, which began on August 29.

On the occasion, the provincial authorities have visited and presented gifts to the community's dignitaries and individuals who had made great contributions to the local socio-economic development.
During the three-day festival, which is the most important annual celebration of the Muslim Cham people in the province, people hold banquets and feasts and spend time repairing houses.
There are almost 67,650 Cham ethnic minority people in the province, accounting for 11.69 per cent of the population. Of them, 30,495 are Muslims and the remainder, Hinduism followers.
All Cham ethnic-inhabited communes in Ninh Thuan province have got access to rural roads, electricity, safe water, schools and healthcare clinics. The rate of poor households in the province was reduced to below 15 percent. Cham people have also enjoyed bumper winter-spring and summer-autumn rice crops this year