"Borderless music" is how the popular vocalist My Linh describes the content of her upcoming concerts in Ho Chi Minh City on November 17 and Ha Noi on November 24-25. "It means there'll be no distant kinds of music, people or styles. Everything will be blended together," she said vaguely at a press conference the other day.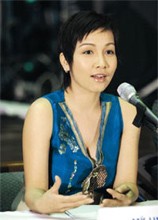 My Linh at the press conference in HCMC
"The shows will not be a summation of my singing career to date. They will be simple concerts where I will perform the sort of outstanding music that I have pursued, the sort for which I have received support from my fans."
My Linh will perform a score of new and established songs with the help of director Pham Hoai Nam, the musicians Hong Kien, Huy Tuan, Ho Hoai Anh, her husband Anh Quan, and many other seasoned professionals.
 
"Our preparation has been the best, so we hope music lovers will enjoy what the singers and bands perform in these perfect live shows," her husband said.
My Linh did not reveal who her guest artists would be on the three nights, merely describing them as "special".
"I will produce an interesting feeling for the audiences," she said somewhat mysteriously.