Since releasing her album De tinh yeu hat (Let love sing), organizing her "My Linh tour 06" and taking part in the Asian Divas concert in Japan, the popular vocalist My Linh has won Viet Nam's "Singer of the Year" award 2006.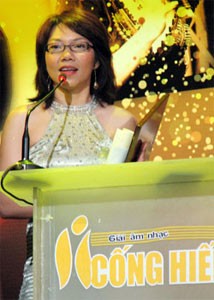 Singer Tran Thu Ha receives the "Album of the Year" award.
The award for the "Musician of the Year" went to Vo Thien Thanh whose song Chuong Gio (wind chimes), performed by Thu Minh, won him the Bai Hat Viet for the "Best Vietnamese Song of the Year" in January.

Singer Tran Thu Ha thoroughly deserved the "Album of the Year" award, which she won for her recent release Doi thoai '06 (Dialogue '06). Ha worked hard to make sure that her album presented a fresh look at Vietnamese music, aiming to develop it's status abroad.

The Sao Mai Diem Hen (Morning Star Rendezvous) music contest, organized by Viet Nam Television, was an opportunity for rising young talents to demonstrate their singing skills in order to try to win the "Show of the year" prize.

The award ceremony of the Cong Hien (Contribution) Musical Award 2006 organized by The Thao Van Hoa newspaper (Sport and Culture newspaper) took place at the municipal Opera House yesterday.

This honorary award is usually bestowed on singers, musicians, musical performances and albums that have made outstanding contributions to the Vietnamese music.