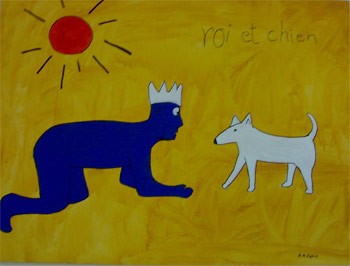 The acrylic paint on canvas, "King and Dog" by Kyaw Nyunt Lynn  (Photo:KK)

The first-ever exhibition of contemporary Myanmarese paintings in Viet Nam will be on display at the Blue Space Contemporary Art Center in Ho Chi Minh City until October 8. Seven Myanmarese painters will show 37 paintings revealing the troubled social issues, current affairs and turbulent history of Myanmar in an exhibit entitled "Identity"

The paintings reveal the intricate and nuanced personal preoccupations and perceptions of social affairs in a developing country overridden by political turmoil for the past several years.
Renowned Myanmarese artists Aung Myint, NCS, Kyaw Nyunt Lynn, Aye Ko, Soe Naing, M.P.P.Ye Myint and Nan Nan all have work on display.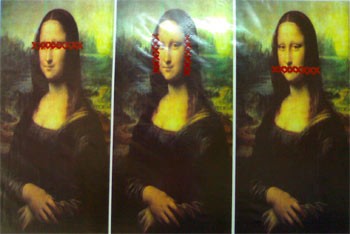 The enamel paint on print "Blind, Deaf, Dump" by Aung Myint  (Photo:KK)
Aung Myint and Kyaw Nyunt Lynn will appear at the exhibition's opening ceremony this evening for questions and answers.
Aung Myint is painter as well as installation and performance artist. He is the principal founder of the Inya Gallery of Art, Yangon, and has participated in over sixty domestic and international group showings.
Painter Kyaw Nyunt Lynn has taken part in several group and solo shows over the years. He has also published several provocative articles and essays about art. He is now translating Burmese Contemporary poetry into French with the support of the Alliance Francaise, Yangon.