National Assembly Chairman Nguyen Phu Trong has ordered all ministries, agencies and authorities nationwide to work hard on improving the sense of responsibility towards preservation and promotion of cultural values, tangible and intangible alike, of the nation.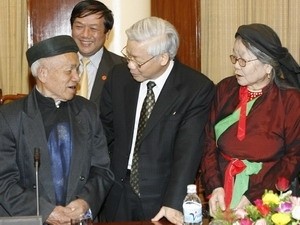 NA Chairman Nguyen Phu Trong talks with virtuosos of Bac Ninh's Quan Ho in the festival
Mr. Trong made the statement at the Bac Ninh Festival 2010 that opened at the Kinh Bac Cultural Centre of Bac Ninh city on the evening of April 17.
The highlights of the festival included a grand ceremony to receive UNESCO's certificates recognising Bac Ninh's Quan Ho (love duets) and Ca Tru (ceremonial singing) as intangible cultural heritage of humanity and a 15-minute fireworks display.
Katherine Muller Marin, Head of the UNESCO office in Hanoi , handed the certificates over to Nguyen Cong Ngo, Secretary of the provincial Party Committee and Chairman of the People's Council.
Addressing the ceremony, Chairman Trong highlighted that surviving through many hundreds years, Quan ho is a cultural activity showing the mind, intelligence and characters of Bac Ninh people.
With UNESCO's recognition, he added, Quan Ho has become a common asset that needs to be preserved and developed in line with the international conventions.
Chairman Trong also took the occasion to present gifts to 44 Quan ho artists, who were just granted artisan title by the Bac Ninh provincial People's Committee.
An incense offering ceremony at Den Do Temple, a trade and tourism exhibition displaying the province's socio-economic achievements and tourism potential, a love duet singing contest, a water puppet show and other cultural events were also held as part of the festival