Nadarzyn orchestra will perform on the streets of Vietnam on the occasion of Hue Festival 2014 under title 'Cultural Heritage with Integration and Development' from April 12-20, announced by the organizers of Hue Festival on January 13.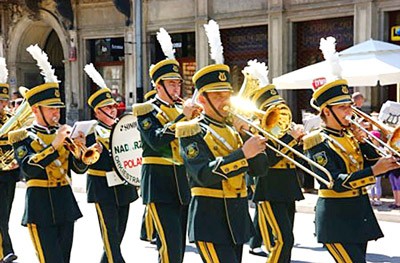 Nadarzyn orchestra (Photo:SGGP)
On the occasion, the Poland musicians will perform many musical genres, including folk , pop, jazz and classical tune. The musicians will paradise on the streets with cloths like soldiers and musical instruments such as drums, clarinets in order to attract more and more viewers.
This is the first time that the Poland orchestra will perform in Vietnam, expectedly, they will bring special Polish music to Vietnamese audiences.
Nadarzyn orchestra was founded in 1998 by music director Miroslaw Chilmanowicz, which is considered as one of outstanding orchestra in Poland.
Nadarzyn orchestra has ever toured in many countries around the world such as Italy , Czech Republic , Ukraine , Bulgaria , Germany , China , Malaysia, Singapore and the United States.
Moreover, Nadarzyn orchestra was awarded the medal 'Contribute to the Polish Culture' by the Minister of Culture and National Heritage of Poland.