Nam Dong Ke (five-line music) band will travel to the Czech Republic next Monday for the Vietnamese student festival that is due to take place from July 10 to 16.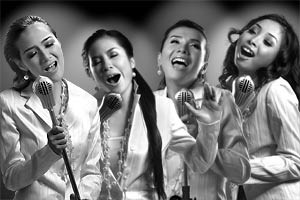 Nam Dong Ke band
The quartet will be accompanied by a 40-member delegation including local students and other artists. 
Nam Dong Ke, founded in 2001, is one of Viet Nam's most popular bands. The quartet consists of Lan Huong playing dan tranh (16-stringed zither), Bao Lan playing dan bau (single-stringed instrument), piano and drum, flutist and pianist Thuy Linh and guitarist Hong Ngoc. They have a passion for singing and playing instruments, as well as performing folksongs in acapella style.
The group will perform Quan ho folksongs in a modern style. Their most popular acapella songs include Doc huyen cam, a piece by Bao Lan, which won the Bai hat Viet (Best Vietnamese song) award in May this year. "We want to introduce new changes to local music to Vietnamese students abroad", Bao Lan said.