The 700th anniversary of the attainment of Nirvana by King Tran Nhan Tong (1308-2008), the founder of Vietnamese Zen Buddhism, will be commemorated from November 25-27 in the northeastern province of Quang Ninh.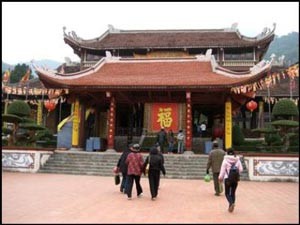 Yen Tu Pagoda in Quang Ninh province
The announcement was made by the Vietnam Buddhist Society and other organizations at the Trinh Pagoda on the Yen Tu Mountain, where the king had retired to after abdicating his throne, in order to meditate and propagate Buddhist precepts.
Two great altars will be created to pray for the peace of revolutionary martyrs' souls under the Tran dynasty (1225 - 1400) and worship Buddha and ancestors on the mountain in Yen Hung District.
A seminar will be organized on the life and achievements of King Tran Nhan Tong by the Vietnam Buddhist Church and the Science and Society Institute on November 26.

On November 27, the commemorative ceremony will take place at the Yen Tu square in Uong Bi Town with a procession, the Bai Bong dance and many prayer ceremonies for world peace, happiness and prosperity.

Bai Bong is complicated dance that requires a large group of performers, ranging from eight to 32 people, who have to perform with two lotus-shaped candle lamps placed on their shoulders.

After the ccommemorative ceremony, the Vietnam Buddhist church and Quang Ninh Buddhist Association will propose that Tran Nhan Tong's death anniversary, the first day of the eleventh lunar month, be observed as the national anniversary of Vietnamese Buddhism.

They will also begin preparing a proposal for UNESCO to recognize Tran Nhan Tong as a World Cultural Celebrity.

King Tran Nhan Tong (1258-1308) was the third emperor of the Tran dynasty who was crowned when he was just 21. He achieved lasting fame as he led his troops to defeat the Mongol.

He is also known for the great strategic initiative of organizing two unusual conferences in Vietnamese history – one gathering all the elders of the country (Dien Hong); and the other bringing together all military commanders (Binh Than) - that strengthened national solidarity against foreign threats.

The king later abdicated his throne and spent the rest of his life to practice and propagate Buddhism, and founded the Truc Lam School of Zen (the Bamboo Forest School).

He was a prolific author and poet, but it is estimated that very few of his works are still in existence.