Hundreds of Ca Tru artisans from clubs in 16 provinces and cities took part in a concert which was organized at Ha Noi Opera House on June 19. The concert revived the living space of Ca Tru in playing singing and ceremonial/festival songs.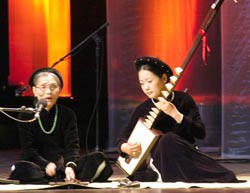 Two artists from Ca Tru Phu Tho Club perform in the concert.
Melodies of Ca Tru and the sound of traditional musical instruments created lively atmosphere.

The concert was organized by Viet Nam Music Institute and the Cultural Heritage Department of Ministry of Culture and Information.

After the concert, documentations of "Ca Tru, Vietnamese ceremonial/festival song" will be sent to UNESCO (the United Nations Educational, Scientific and Cultural Organization) to have it recognize Viet Nam's Ca Tru (ceremonial/festival song) as a masterpiece of oral and intangible cultural heritage.

The concert was attended by Mr. Pham Gia Khiem, Deputy PM, Mr.Pham Quang Nghi, Minister of Culture and Information, domestic and foreign cultural researchers.