A news report writing contest themed "40 Years of Unforgettable Memories" was launched throughout the country on August 27 by the Sai Gon Giai Phong Newspaper and the Ho Chi Minh City Writers Association.

The competition opens for journalists, members of the Vietnam and Ho Chi Minh City writers associations and writers at home and abroad.

It is aimed to highlight outstanding achievements in various fields; changes, development and images of the country in general and Ho Chi Minh City from 1975 to 2015.

The entries honor outstanding events, typical individuals, and cooperation projects which have many influences on the development of Ho Chi Minh City.
The competition is also to mark the 40th anniversary of South Vietnam Liberation and national Reunification Day (April 30, 1975-2015), the 90th anniversary of Viet Nam Revolutionary Press Day (June 21, 1925-2015), and 70th anniversary of Vietnam's National Day (September 2, 1945-2015).

Submissions have a maximum of 2500 words and illustrated photos, and can be sent to the Sai Gon Giai Phong Newspaper at 399 Hong Bang, Ward 14 in Ho Chi Minh City's District 5; or email: kysu40nam@gmail.com and kysu40nam@sggp.org.vn by March, 2015.

The award ceremony will be organized in 2015 on occasion of the Sai Gon Giai Phong Newspaper's first issue (May 5).
The opening ceremony of the news report writing contest (Photo: SGGP)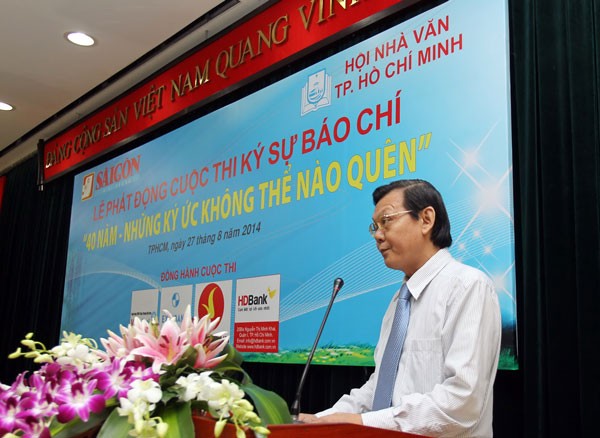 Editor-in-chief of the Sai Gon Giai Phong Newspaper, Nguyen Tan Mr.Phong speaks at the opening ceremony. (Photo: Sggp)