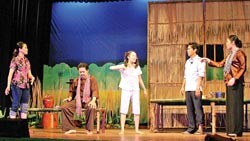 A scene in "Windy field"
The opening ceremony of the first National Self-Funded Theater Festival took place at the Hung Dao Theater in Ho Chi Minh City yesterday. National and private theater troupes from around Viet Nam give theater-lovers the opportunity to enjoy 23 dramas with diversified themes bringing forth the situations found in modern life. Audiences can also take part in discussions about the plays with the directors, artists and board of appreciators.
Until its closing November 3, the festival will see the participation of more than 200 artists from 16 theaters, organizations and clubs nationwide. Participating groups include Idecaf Theater, Small Stage 5B Theater, Saigon Theater, Phu Nhuan Theater, Vu Luan Club, Southern Experimental Theater Center, and the northern theater troupes of Song Bien and Lan Huong, along with many others.
Immediately after the ceremony, the "Canh dong gio" (Windy Field) by the Phu Nhuan Theater opened the festival, with proceeds going to the typhoon victims of the central coast.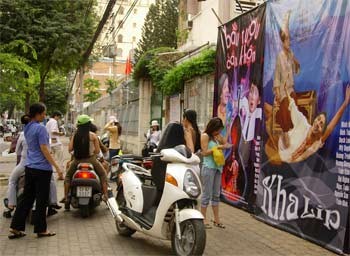 Audiences buy tickets at the Idecaf theater' ticket-office (Photo: KK)
"The festival was organized very late in comparison with the development of privatized theater movements over the years. In fact, the Idecaf Theater has been operating in accordance with this model for ten years and Small Stage 5B Theater, Saigon Theater, Phu Nhuan Theater for over five years. Our plays have been appreciated as commercialized works with superficial content which held closely to the general public's taste.

This is an opportunity for us to express our opinions and our style that we have developed over the past decade. Idecaf will present Hay Khoc Di Em (Cry Darling) and Trai Tim Nhay Mua (Dancing Heart), two beautiful and interesting plays which are politically concerned but attractively represented so as to prove that private theaters can do things seriously and still draw audiences," explained the manager of Idecaf Theater Huynh Anh Tuan.
"We had presented privately-funded dramas for 17 years before this style was born and developed strongly in HCMC. However, there are several complicated policies and a lack of dynamics in the northern stage arts. We hope that we can find solutions through the festival," stated director of the Song Bien theater troupe Nguyen Dinh Dai.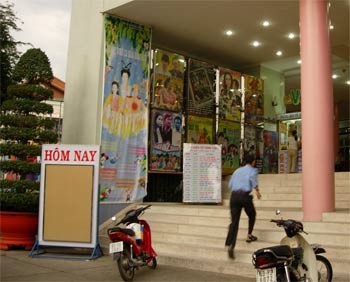 Phu Nhuan Theater (Photo: KK)
According to the organizing board, the festival aims to demonstrate the many agendas of the different privately-funded theater operations and find solutions in developing and unifying the movement throughout the country.
Excluding the traditional and army theater troupes, 102 state theater organizations will be reduced to 58 between now and 2010. The reduced state troupes must find effective solutions to remain in operation.
The festival is being held by the Performing Arts Department of the Ministry of Culture and Information, the Ho Chi Minh City Department of Culture and Information and the Ho Chi Minh City Theater Association.