National Tourism Year 2012 will be held in the Central Province of Thua Thien-Hue, providing a huge opportunity for the province to promote its tourism resources, ancient culture and investment potential to domestic and foreign visitors.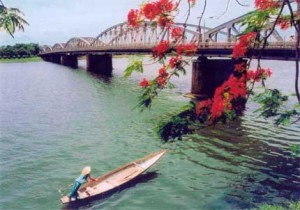 Huong River is a river that crosses the capital city of Hue.
Nguyen Van Cao, Chairman of Thua Thien-Hue Province People's Committee, stated this at a press conference on June 14.
He said many activities will be presented at the event, such as culture programs, introducing the first national heritage site, a seminar on International Corporation and tourism development such as a road linking Vietnam to Laos and north-east Thailand.
The province authorities are considering holding 'National Tourism Year 2012' at the same time as 'Hue Festival' to bring in more vibrancy besides saving expense and time.
'National Tourism Year 2012' and 'Hue Festival 2012' will be major national events that will draw many foreign visitors. The events are an opportunity for Hue to develop its economy, attract investors and improve infrastructure, hotels and tourism services.
Thua Thien-Hue is well known for its cuisine, craft products and folk festivals, like Cau Ngu festival, the boat race on Huong (Perfume) river and the annual Hue festival.
 
Ancient tombs and pagodas dot the landscape of Hue along with spectacular beaches like Lang Co, Thuan An, Canh Duong and the Tam Giang-Cau Hai lagoon. It truly is an attractive destination for tourists.