The 1st National Youth Television Festival 2011 is currently on at the coastal city of Nha Trang in Khanh Hoa Province to mark Vietnam Revolutionary Press Day (June 21).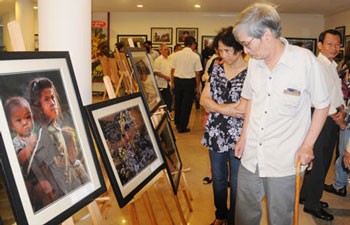 Photo exhibition by photographer Hoang Minh Quoc in Hanoi. (Photo: Sggp)
The "Youth TV" program produced by the Youth Television Center is aired weekly on VTV channel.
Another new show titled "Youth-Health-Inspiration-Success" will be aired on VTV6 channel soon. The program aims to guide and provide young people with awareness on social issues, ideals, thinking and life style.
The festival is being co-organized by the Central Committee of Ho Chi Minh Communist Youth Union, Youth Television Center and Vietnam Television.
The event will run from June 20 - June 21.
In related news, a photo exhibition is being held to celebrate Journalism Day in Hanoi. The display presents 60 colored pictures of Vietnam and its people, photographed by Hoang Minh Quoc.