From 2009 onwards, ceremonies to be organized to commemorate the kings Hung (Hong Bang Dynasty) in cities and provinces nationwide must follow the same due rites, as stipulated by the Ministry of Culture, Sports and Tourism yesterday.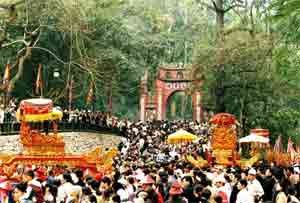 Thousands of people go on a pilgrimage to Hung kings's temples nationwide every year
Food to be offered in the ceremony should include 18 banh chung (glutinous rice cakes), 18 banh day (round sticky rice cakes), incense, fresh flowers, betel and arecas, rice wine, drinking water and five different kinds of fruit.

Each banh chung must be wrapped in fresh dong (Phrynium) leaves and fastened by red-dyed bamboo strings. A piece of paper, with a word having the meaning of blessing on it, will be stuck on each banh day.

Ceremonial uniforms to be worn by members of the ceremonial board will follow designs approved by the Ministry (formerly Ministry of Culture and Information) in 2004.

Based on the budget of each provincial capitol, local authorities can organize festivals following the rites as healthy playing grounds for pilgrims, visitors and tourists

According to the latest statistical reports by the Ministry there are 1, 417 temples worshiping kings of Hong Bang Dynasty throughout the country.

So far, rites organized in such temples are conducted in different ways, depending on local customs.

Ceremonies organized to commemorate the anniversary of the kings' deaths are annually organized on the 10th day of the third Lunar month.
The Hong Bang Dynasty supposedly ruled Vietnam (then known as Van Lang) for 2000 years until 258 CE.

According to Vietnamese legend, the first ruler of the Vietnamese people was King De Minh, a descendant of Emperor Shen Nong, father of Chinese agriculture.

De Minh married an immortal mountain fairy and gave birth to Loc Tuc, who later became King Kinh Duong, ruler of the Land of Red Demons in the South.

Loc Tuc married the daughter of the Dragon Lord of the Sea. Their son, Sung Lam succeeded King Duong Vuong to the throne and became King Lac Long Quan, the first true Vietnamese ruler.

Lac Long Quan married mountain fairy Au Co, who gave birth to 100 sons.

Lac Long Quan and Au Co then separated from each other. Au Co, together with 50 sons, moved into the mountains and settled down. Lac Long Quan kept the other 50 sons and continued to rule the lowlands.

Lac Long Quan's eldest son succeeded him as the first of the Hung kings of the first dynasty 'Hong Bang' of Vietnam, as such, he is regarded as the founder of the country.

The Hong Bang dynasty consisted of at least 18 kings. The throne went from father to son, from generation to generation.

The Hong Bang dynasty ended in the third Century CE when the last Hung king was overthrown by An Duong Vuong, who built his capital at Co Loa citadel, 35 kilometers north of present-day Hanoi.