'Natsu Matsuri' or Summer Festival will have many activities like the floating paper lantern show, 'yukata' contest (traditional Japanese summer garment) and much more, at the Le Thi Rieng Cultural Park in district 10 on June 19.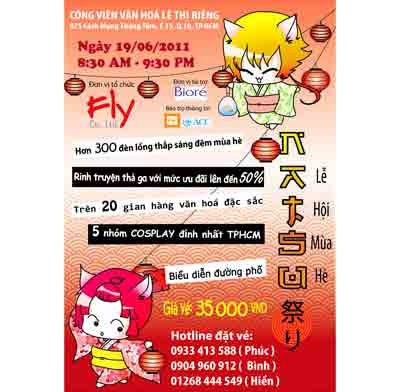 Poster of the event
The festival will feature specific aspects of Vietnamese and Japanese culture such as Origami paper art, 'furin' making (wind chimes), Vietnamese tea-making and traditional Japanese cake baking. More than 300 lanterns will light up the Japanese lantern parade with shop assistants dressed in colorful 'Happi' and 'Yukata' clothes.
The event will introduce Japanese and Vietnamese folk games like gold fish catching, 'Fuku Warai' 'Suika Wari' (hit the watermelon), a singing contest of 'Anime' and 'Yosakoi' songs, Yoyo and break dance performances, contact juggling and a new Japanese game called mandarin square catching.
Highlights of the festival are Japanese comic books, booths of Anime, manga, Japanese souvenirs and Vietnamese, Japanese foods. Comic book lovers will be happy to buy comics at 50 percent discount.
Five leading cosplay groups from Ho Chi Minh City will compete in the Couple Fashion Cosplay. Cosplay is an abbreviation for costume play, cosplay refers to the practice of dressing up in costume to mimic anime, manga, sci-fi fantasy and video game characters.
The entrance fee is VND35,000 per person (nearly US$2).