Vietnam Fashion Week Autumn and Winter 2011 opened on April 18, kicking off an event which will highlight 27 designer collections at the Daewoo Hotel in Hanoi .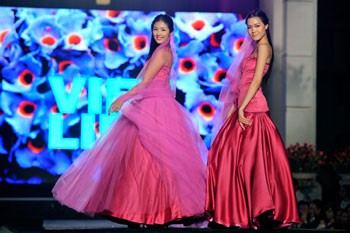 Miss Vietnam 2008 (R) and 2010, Ngoc Dung (R) and Ngoc Han perform in the fashion show. (Photo: Vnexpress)
This year, most of the collections feature wool, denim, velvet and khaki by young designers from Viet Thang, Como Fashion and veterans such as Minh Hanh, Trong Nguyen and Viet Lien.
The fashion week exhibits 900 designs, with diverse styles, fresh perspectives, functionally combined with beautiful design.
Models sported modern looks by Viet Thang Garment's designers Cuong Thinh, Hong Dung and Trong Nguyen on the opening night of the three-day event.
Como's Green Collection is entirely produced from the environmentally-friendly ramie tree. The material can easily be combined with cotton, wool and silk, and has been used in haute couture. The Green Collection will be shown April 19.
Fashion Week marks the public premier for the Hanoi-based Vietnam Designer Fashion Gallery and F8 designers from HCM City . The two collections feature the designs of young designers giving their take on autumn and winter.
The F8 designer show took fashion fans by storm on April 18, with Hanoi 's designers showing off their looks on April 19.
Fashion Week will wrap up with a show by veteran Minh Hanh. Hanh is known as being at the vanguard of Vietnamese fashion.
The Vietnam Fashion Week Autumn and Winter 2011 is organised by the Vietnam Textile and Garment Corporation.