As many as 5,875 antique objects made of Chu Dau pottery, dating back to the 15th and 16th centuries have just been discovered.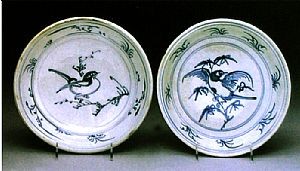 Two of antique items are found in a sunken ship off Cu Lao Cham
The discovery took place off the central coast of Cu Lao Cham in the town of Hoi An, Quang Nam Province.
 
The find included ceramic objects comprising bowls, dishes, tea-sets, boxes and jars, most of them made from white enameled pottery.  
 
The items are decorated with pictures of daisies, birds, fish and landscapes.
 
Over 15,900 antiques have been discovered in sunken ships off Cu Lao Cham since 2004.  
 
Archaeological research found that the craft of Chu Dau pottery was a center of refined ceramics that commenced around the end of the 14th century. The craft reached the pinnacle of its popularity in the 15th and 16th centuries and started to lose favor a century later.