Archeologists digging around the base of the three mighty Duong Long towers in Binh Dinh Province have greatly expanded their knowledge of the ancient Champa people. In the second excavation by the provincial museum, the archeologists found more than 1,000 bas-reliefs, pieces of pottery and other objects. They are yet to be classified.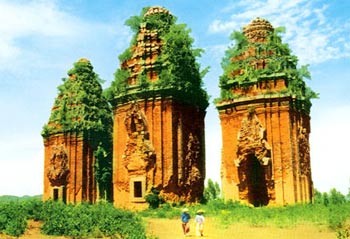 Duong Long tower group
What surprised the scientists most was that the solid foundations unearthed by their digging were completely covered in sophisticated carvings and were obviously more technically advanced in their construction.
While the foundations of most Champa towers are simple constructions of laterite, sand and pebbles, the foundations of the Duong Long towers were built with four layers of laterite and seven layers of bricks overlapping each other.
The underground base of each tower measures 20 meters across and comprises several layers of sandstone. At the other end, the roofs of the towers had been skillfully carved with ornate flowery patterns and images of sacred animals.
The experts guess that the three towers together had entombed someone important since, to the modern-day Cham people, a tower was often the crematorium for a deceased Champa monarch.
Several half-finished structures and bas-reliefs were found at the base of the two minor towers. Dr. Dinh Ba Hoa from the Binh Dinh Museum suggests the work was interrupted because the Champa king met with some problems.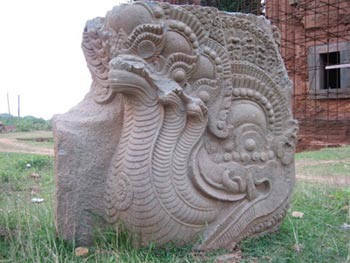 A bas-relief was found
The Binh Dinh Department of Culture and Information is planning to hold a seminar in the provincial capital, Quy Nhon, in the middle of November to discuss these latest discoveries about the Champa people of the old time.
The Duong Long towers are located near the village of An Chanh in Tay Binh Commune, Tay Son District, 40km from Quy Nhon and 270km from Da Nang. They were built at the end of the 12th century in the reign of the King Jaya Indravarmadeva.
The middle of the three towers is 35m tall; the two that flank it measure 22m from top to bottom. They are considered the most beautiful of the many Champa towers in the lower central region of Viet Nam.